02 May

Choosing the correct size water filter to fit your needs
CHOOSING THE CORRECT SIZE WATER FILTER TO FIT YOUR NEEDS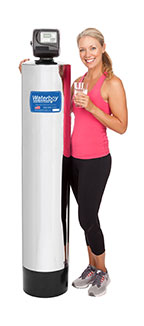 Are you considering having a home water filtration system installed?  If you are interested in installing a water filtration system for your home, you'll need to choose a system that can handle your unique water needs. If the filtration system is too small, it won't be able to filter the water as quickly as you need it. If the system is too big, then you'll be paying for a more expensive system than you truly need.
You may assume that if you have a large house with many bathrooms that you'll need a larger model water filtration system, but it really depends on your usage.  For example, if two people live in a 4,000 square-foot house with five bathrooms, they may use less water than a family of six living in a 2,000-square foot house with 2.5 bathrooms. After all, a couple can only use two bathrooms at the same time. A larger family could be using three bathrooms and running the kitchen sink (and the dishwasher and laundry) at the same time.
If you aren't sure which water filtration model you need, give us a call, and we can help you figure out your average water usage so we can recommend the right model for your needs.